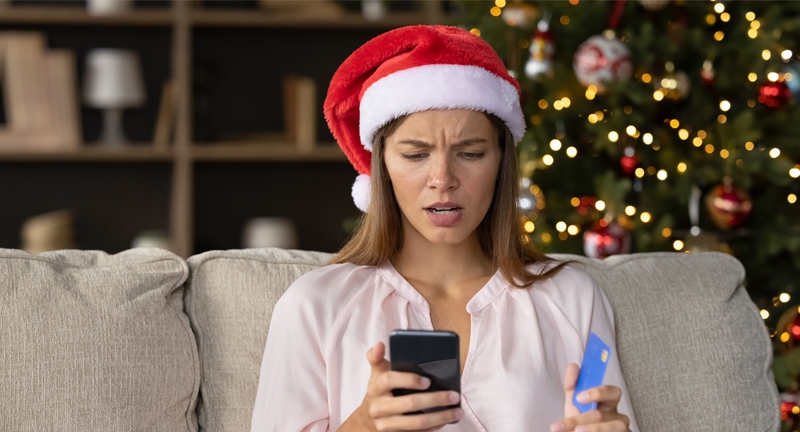 'Tis the season for fraud. We must be wary of the breaches, identity theft and fraud that tend to ramp up during the holiday season. Debit card fraud, especially, thrives during this time. Debit card fraud occurs when someone gains access to your account information to make unauthorized purchases.
Black Friday and Cyber Monday deals have come and gone, but many people are still shopping online for that special holiday gift for a loved one. All that extra online shopping can increase the risk of a fraudster accessing your account information. Nobody wants to be a victim of fraud; Falcon National Bank is here to offer tips on how you can protect yourself from debit card fraud this holiday season and beyond.
Stay Alert
Keeping tabs on your account is your best defense against fraud. Debit Card Controls are great for controlling and monitoring spending. With Falcon National Bank's online banking platform and mobile banking, Debit Card Controls can be used to set alerts for real-time notifications to ensure you are the only one using your card. Suspicious that someone may have taken over your account? You can turn your card on and off with the click of a button. Fear you may have lost your card, or it has been stolen? You can report lost and stolen cards directly in your online banking or mobile app. Whether you are using your card down the street, online, or overseas, you are in complete control. Learn more about Debit Card Controls here.
Go Paperless
Avoid the theft of your personal and banking information. Sign up for eStatements when you log into your online banking account and keep the fraudsters out of your mailbox. When you sign up for eStatements you are also helping to protect the environment by using less paper. Consider that a good deed of giving this holiday season!
Shop Safer
If you are shopping local, be aware of the location of your wallet and its contents, as well as the people around you. Fraudsters are always on the prowl! If you are shopping online, refrain from saving your debit card information on the sites you purchase from. Manually entering the information for each purchase can help reduce the risk of fraud.
Stay in touch
Keep your email address and mobile number up to date with Falcon National Bank so we can get in touch quickly if there is questionable activity on your account. Should you come across any red flags on your account, please reach out to us as soon as possible. As always, we will do our best to help. Contact us today for more tips on how to protect yourself from all types of banking related fraud.