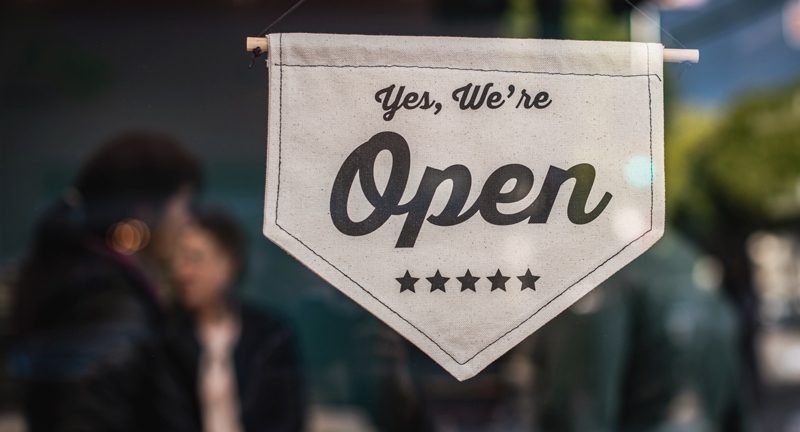 It's been a banner year for businesses and the economy. Basically, every business has been affected by this virus. Even if you have a business that remained open, the restrictions, uncertainty, and fear have been enough to make the last few months unlike any we've ever seen.
As we begin to ease into our new normal–because going back to the way things were just isn't realistic–there are plenty of things on our minds. How do we support business and keep our customers and staff safe? Should I be concerned about pushing too hard too fast or not hard enough to get back on my feet?
Check out a few basic tips below to get a clear plan for your business when reopening during the Coronavirus:
While Your Business is Still Closed
If you have not already done so, familiarize yourself with the grants and loans available to Minnesota businesses. These will help you pay your staff and stay above water while waiting out the quarantine. More than just paying the bills, though, many business owners worry about how they will rebound once we are allowed to open our doors again. There are a few things you can do in the meantime.
Evaluate Your Business Strategy
Truly taking a look at your business and deciding where to trim is difficult in any situation. COVID-19 has caused many businesses to panic and make major cuts–sometimes completely out of necessity. As we are shut down, it's a good time to examine how your business operates and make decisions about company changes, evaluate challenges, and look at the bigger picture.
If you are worried about the financial future of your business, please contact us. We know that supporting small businesses is important now more than ever and we can offer some relief.
Continue Your Marketing Strategy
Marketing and advertising are always important to businesses. You may have cut back to save a little money, but especially while people are stuck at home, marketing is important to your business's survival. There are, of course, adjustments to make, such as timelines, imagery, and language, but it's important to continue highlighting your brand and staying optimistic. Check out some marketing tips for businesses here.
Reopening Your Business
It might be slower than we would like, but businesses are beginning to reopen around the state. As plans begin to develop and we enter the first few stages, your business will no doubt face some challenges.
Reorganization and Planning
A good actionable first step is to reconfigure your business's floor plan to maintain a 6-foot distance between workers, customers, and other visitors. Think of mail carriers, delivery people, and walk-in traffic as well. If you can (and if your staff is on board) stagger working schedules so that your full staff isn't working at the same time every day.
You'll also need to plan sanitizing steps before and after each working day–sometimes even during the day, depending on your business.
New Safety and Hygienic Standards
Cleanliness is going to be very important going forward–not just in the initial stages of reopening. You should consider your business's solutions for wearing masks (for employees and staff), hand sanitizer, and limiting personal or close-quarters contact. You may have had a cleaning staff in the past, and you may need to delegate new tasks or expand their time spent sanitizing and cleaning.
Stay Up-To-Date with Regulations
The safety regulations and planning timelines in our state change based on how the virus is reacting. Your specific opening timelines might also change based on where your business is located and how the virus has impacted your area. Get to know the rules and best practices in your area and stay informed on the facts.
It's an uncertain time for businesses, and Falcon National Bank would like to let our customers know that we are here to help and support you in any way we can. View our financial solutions page to learn more about assistance programs, refinancing, and more to help keep your peace of mind.