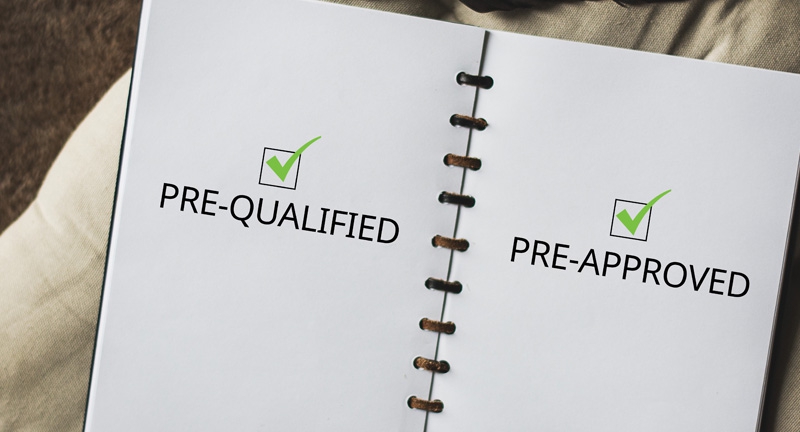 The home buying market is hot right now. Summer is the perfect time to move, the economy is stable and buyer confidence is high. However, inventory is also a bit low and that means that houses are selling fast. If you are actively looking, you will want to be prepared to act quickly when you find that perfect property. That means having all your financing sources in-line. What's the first step?
Pre-qualification and pre-approval are two different terms used to describe the initial part of the loan process. Pre-qualification is often seen as the first step in the mortgage process and pre-approval is the next step. Both essentially give you an estimate of how much you may ultimately be approved to borrow.
What's the difference?
A pre-qualification is based on basic information about your income that you verbally give a lender and is a rough estimate of how much you can afford. Pre-qualification is like a pre-test.
A pre-approval is documented. This documentation shows your Realtor and the seller that your lender has reviewed your credit, income, assets and other related documents. A pre-approval is much more official, the amount of money you are approved for is the amount the bank will lend to you, assuming there are no major changes with your financial situation.
Should I get pre-qualified?
It certainly doesn't hurt to get pre-qualified, but if you want to get a mortgage, you will eventually have to provide your bank with the necessary documentation. It's often recommended that homebuyers go straight to the pre-approval process. If you are serious about buying a home, a pre-approval is the way to go. However, if you are just getting your feet wet in the house hunting process, and you are not ready to have your credit run, getting pre-qualified can be a good start.
Why getting pre-approved is important:
1. You'll know how much house you can afford.
Getting pre-approved before you look for a house makes you aware of how much you can realistically afford and allows for a more efficient selection process.
2. It adds clout to your offer and increases your negotiating power.
In many markets, homes attract more than one offer. If the sellers are weighing one offer against another, they may lean toward the one accompanied by a pre-approval letter. This instills confidence that the buyer is financially capable to purchase their home.
It may also give you the upper hand when negotiating the price. If the homeowner is eager to sell, they may be more willing to accept a lower offer.
3. It saves time.
Obtaining a mortgage can be a lengthy process. Getting pre-approved beforehand shortens the time between contract and close. You'll be ready to proceed with finalizing the mortgage once you've found the home you want to purchase.
The bottom line – if you are serious about being the winning offer, make sure you are pre-approved, not just pre-qualified. Your offer will be taken more seriously and in this seller's market, buyers need all the help they can get. Falcon National Bank is here to help you with any additional mortgage questions you may have, we're here when you need us!
Andrea Fix

Mortgage Banker

NMLS #1775908

763.235.2390

Falcon NMLS #402625